India's biggest festival Navratri is celebrated around 9 days in the name of Goddess Adi Shakti. On this occasion festival, the Chandraghanta avatar of Durga Maa is worshiped. Chandraghanta Devi is a representation of spiritual power and internal power. It is the 3rd day of the festival and is a very powerful day for pilgrims who worship Chandraghanta Devi.
Due to the Navratri festival, all Hindus do fasting and worship the Maa Chandraghanta Devi with many hopes. Some higher-status pilgrims do 9 days of fasting with dedicated puja, recite the Durga mantra, and regularly visit the Durga temple. Chandraghanta Devi is also considered a supreme god beyond Lord Vishnu, Lord Shiva, and Lord Bramha.
| | |
| --- | --- |
| Festival Date | October 2023 |
| Tithi | Chaitra Sukla Paksha Tritiya |
| Goddess | Goddess Chandraghanta |
| Puja | Chandraghanta Puja |
| Maa Mantra | Om Devi Chandraghantayai Namah |
| Maa Flower | Lotus |
| Festival 3rd day Color | White |
Important Dates
Day 3 Magha Gupta Navratri: 24th January 2023 (Tuesday)
Day 3 Chaitra Navratri: 24 March 2023 (Friday)
Day 3 Ashadha Gupta Navratri: 21st June 2023 (Wednesday)
Day 3 Shardiya Navratri: 17th October 2023 (Tuesday)
Maa Durga is an incarnation of Devi Maa or Mother Goddess, the unifying symbol of all divine energies. Durga is the wife of Shiva to the Shaivites. Durga is another form of Ma Uma or Ma Parvati for Vaishnavas and Shaktis.
Hindu Goddess Maa Durga appeared when evil spirits threatened the very existence of Gods. To destroy these demons, all the deities lent their brilliance to her creation and each formed a part of Durga's body. Durga also received very powerful weapons like Chakra from Vishnu and Trishul from Shiva.
The name "Durga" means "Invincible" in Sanskrit. The letter "Du" is synonymous with the 4 demons of poverty, suffering, famine, and bad habits. "r" represents diseases, and "ga" destroys sins, injustice, iniquity, cruelty, and laziness.
Durga killed the powerful demon Mahishasura and all his great commanders. Demonic powers are self-destructive but very powerful. Divine powers are constructive but slow and efficient. When the demonic forces create an imbalance, all the deities unite and become one divine force known as Shakti or Durga.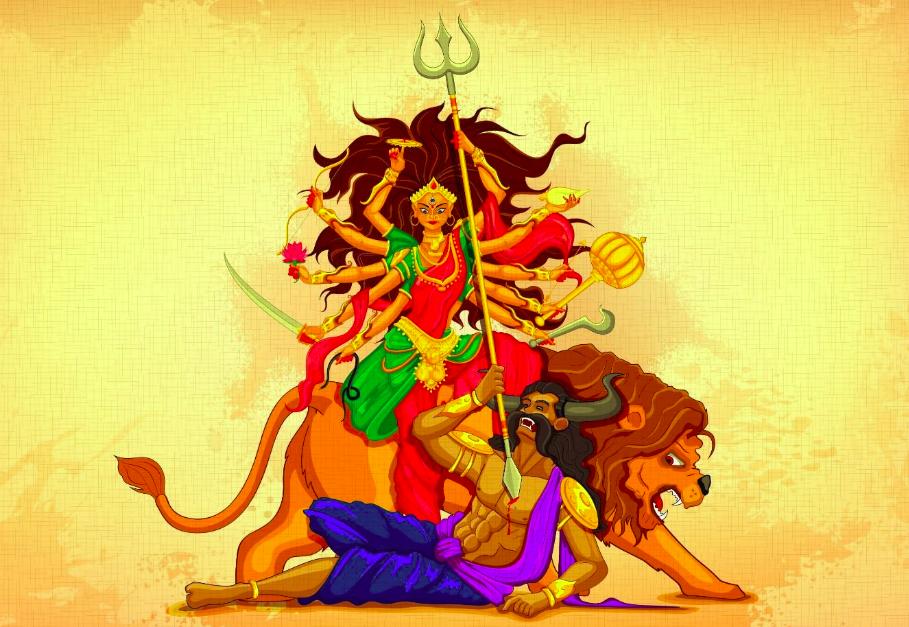 Goddess Parvati is the consort of Lord Shiva. After the marriage, Lord Shiva adorns the foreheads of the deities with a moon made of sandalwood. That is why she got the name Chandraghanta. She is believed to remove problems and minor demons from life. She has ten arms and three eyes, and on her forehead is the moon of Shiva. She has a golden complexion and is ready for battle. She wears necklaces of bells that try to silence, and pronounce the bells.
She rides on a tiger and protects her devotees, bestows peace, and bestows ultimate good. She holds a gong (large bell) and is adorned with a half-moon on her head.
Chandraghanta Puja is performed on the third tithi of Navratri. Before Puja purify Puja Location with Ganges water or Gaumutra. Then, make a Kalash installation by placing a coconut on silver, copper, or earth filled with water. Now, take Sankalpa for Pooja and do the Shodopchar Pooja of Maa Chandraghanta.
Then offer all the puja materials to all the deities. Finally, perform aarti and distribute Prasadam and Soothe Moon with milk and milk products which calms Moonlight and removes all obstacles.
The following instructions are the method of Puja:
Atma Pooja: Self-purification by Puja
Tilak and Aachman: Put tilak on your forehead and drink holy water from your palms.
Sankalpa: Taking water in hand and making a wish in front of the Goddess.
Aavahana and Aasan: Offer beautiful flowers
Paadhya: Offer water to Devi charans.
Aachman: Offer Kapoor mixed water.
DugdhaSnan: Offer cow milk for bathing
Ghrita and Madhusnan: Offer ghee and honey for bathing
Sharkara and Panchamritsnan: Offer sugar and the Panchaamrita bathing.
Vastra: Offer a sari or cloth to wear.
Chandan: Put sandalwood tilak on the deity.
After that: Druvapatra and Bilwapatra, Dhoopa and Deepam, Kumkum, and Kajal.
Last Step: Offer Prasadam.
With the grace of Goddess Chandraghanta, devotees get Darshan of supernatural things. Experience the divine fragrances and hear many kinds of sounds. Amma always keeps her devotees away from all obstacles and brings happiness in life.
Om Aim Hreem Chandraghantay Namah ||

Om Devi Chandraghantayayi Namah(108 times)

Pindaj Pravaarudhchandkopastrkairyuta |

Prasadam Tanute Madhyam Chandraghantetivishrutaa ||

Aarti

जय माँ चन्द्रघण्टा सुख धाम। पूर्ण कीजो मेरे काम॥

चन्द्र समाज तू शीतल दाती। चन्द्र तेज किरणों में समाती॥

मन की मालक मन भाती हो। चन्द्रघण्टा तुम वर दाती हो॥

सुन्दर भाव को लाने वाली। हर संकट में बचाने वाली॥

हर बुधवार को तुझे ध्याये। श्रद्दा सहित तो विनय सुनाए॥

मूर्ति चन्द्र आकार बनाए। शीश झुका कहे मन की बाता॥

पूर्ण आस करो जगत दाता। कांचीपुर स्थान तुम्हारा॥

कर्नाटिका में मान तुम्हारा। नाम तेरा रटू महारानी॥

भक्त की रक्षा करो भवानी।