Ramayana is one of the most popular and important Sanskrit epics. There may be several arguments regarding its occurrence in the real world and history, but places existing even today give the proof, though not clearly, that it had transpired in reality.
Here is a list of 13 Places Mentioned in Ramayana
1. Ayodhya
In the present day, Ayodhya is in Uttar Pradesh of India, still with the same name. In Ramayana, it was the capital of the Kosala Kingdom, ruled by the Ikshvaku dynasty that Lord Rama belonged to. Ram was born in Ramkot, and the South end part of Ayodhya, which is one of the famous tourist destinations.
2. Prayag
This place in the present day is Allahabad, also part of Uttar Pradesh. This is where Rama, Lakshmana, and Sita took a rest for the first time after living the kingdom for 14 years of exile.
3. Chitrakoot
This place is in Madhya Pradesh of India. This is the second stop of the trio where Bharat comes to meet Rama and asks for his return. Ramghat is the place in Chitrakoot where Rama and Sita used to bathe. Bharat Milap temple is believed to be where Bharata and Rama were reunited after 14 years of exile.
4. Panchavati
This place is a part of the Nashik district located in Maharastra. This is the place where the trio moved to after Chitrakoot. In this place, Lakshmana drew Rekha, famously called Lakshman-Rekha and Ravana abducted Sita. Ramkund is the place in Panchavati where Rama used to bathe.
5. Dandakaranya
This place is in Chhattisgarh at present. This is where Lakshmana cut Ravana's sister Surpanakha's nose while trying to lure him and attack his brother Rama.
6. Lepakshi
This place is in Andhra Pradesh, and it is where Jatayu, semi-god as a vulture, fell after trying to rescue Sita from Ravana, who cut the wings. Jatayu got Moksha after the incident at this place.
7. Kishkindha
This kingdom is today's Hampi, located in Karnataka. This was the kingdom of Bali and Sugriva. This is the kingdom where Rama met Hanuman and other Vanara (monkeys) and formed his army with the help of Sugriva. Rishimukha, a mountain near the Tungabhadra River, is where Sugriva and Hanuman lived.
8. Rameshwaram
It is a part of Tamil Nadu, and from this place, Rama and Vanara armies built a bridge to Lanka. The bridge is named Rama Setu. After returning from Lanka, Rama stopped by this place to worship Shiva and asked for forgiveness reason killing a Brahmana (Ravana).
9. Ashok Vatika
Now known as Ashokavanam, it is located in Sri Lanka. This is where Sita was kept captive after refusing to live in Ravana's palace. There is a temple at present, named Sita Amman Temple, which is located in the village of Sita Eliya.
10. Ussangoda
This is also a place in Sri Lanka. Ravana uses this place to keep his Puspak Biman, a flying chariot affected by fire caused and set by Hanuman while burning the Lanka.
11. Talaimanner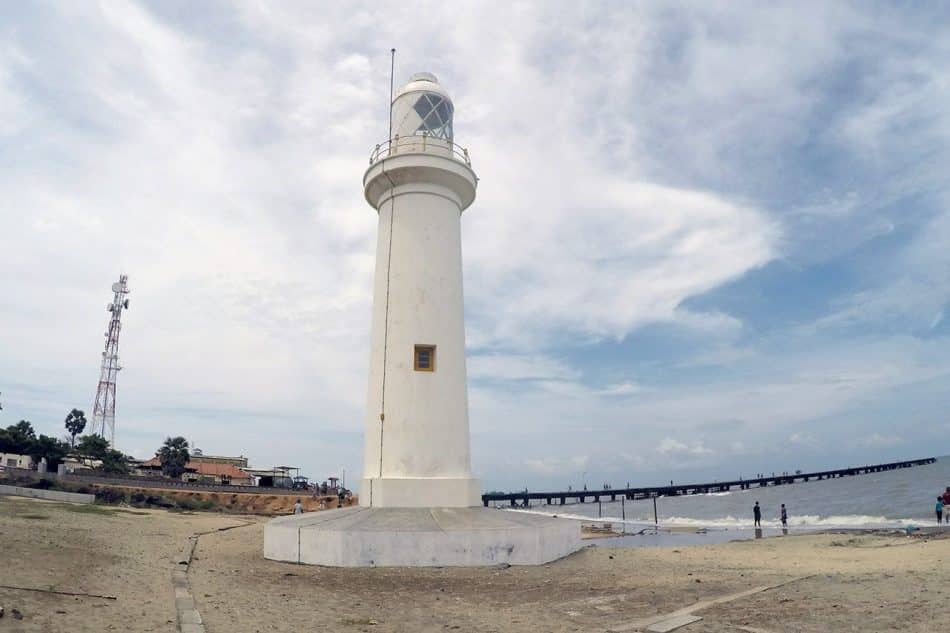 This place is now a beach in Sri Lanka. This is the place where Rama set his first foot in Lanka and where he killed Ravana. Ram Setu connected this and Rameshwaram.
12. Divurumpola
This place is in Sri Lanka, situated 15 km from Sita Eliya. This is where Sita underwent "Agni Pariksha" (fire test). It is a popular place of worship among locals in this area.
13. Mithila
Mithila is located in Janakpur of Nepal and some parts of Bihar in India. This place was the kingdom of Janaka, Sita's father.