Yatra means journey. A journey teaches us valuable lessons and acceptance and often opens our minds to new experiences. One such journey the Hindus undertake is the Chaar Dham yatra.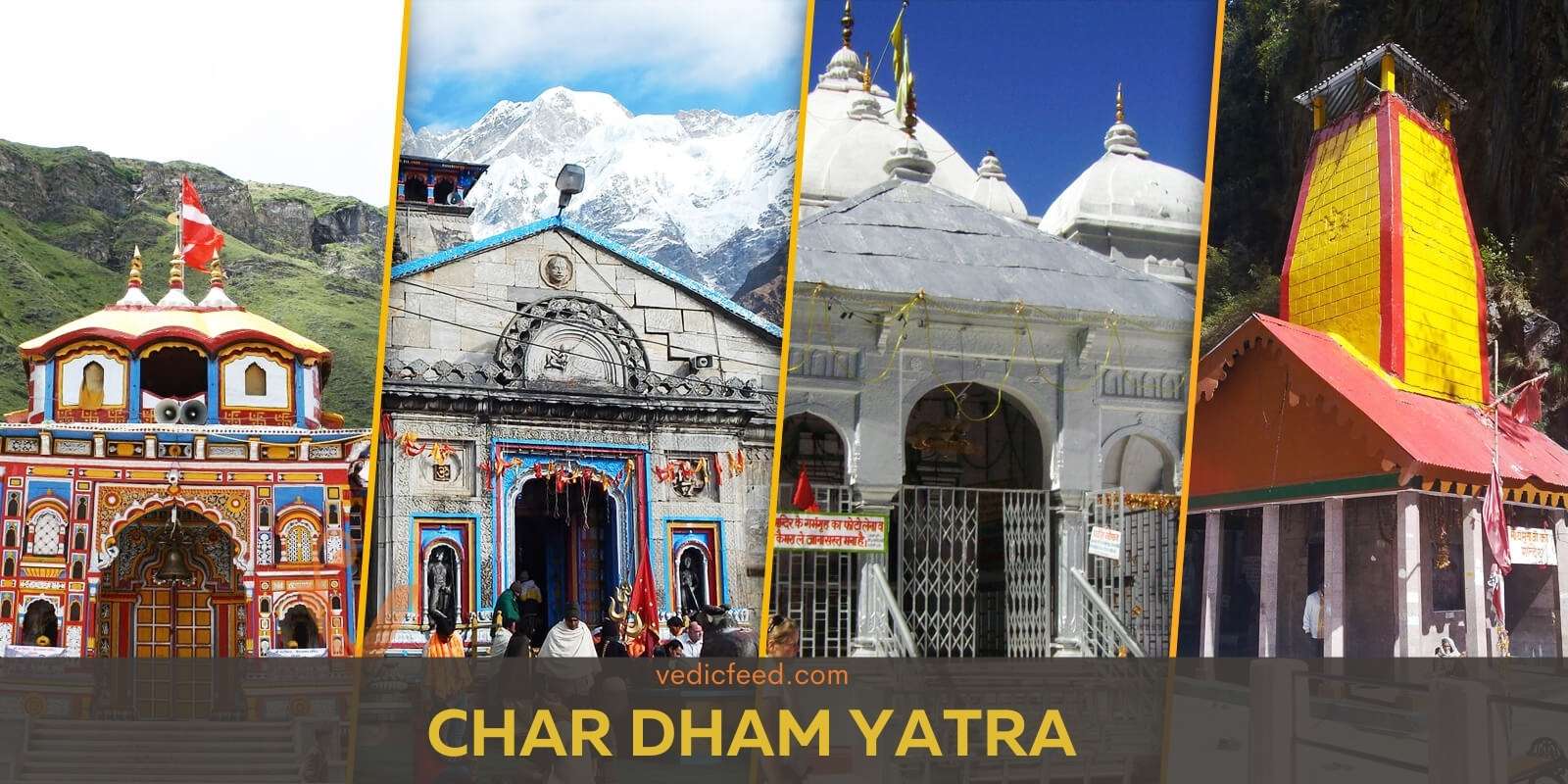 What is Char Dham?
The word 'Chardham' refers to a pilgrimage journey where a pilgrim travels across and visits auspicious temples or 'dhams,' four in number dedicated to Gods and Goddesses. Followers of Lord Vishnu believe that visiting these sites helps achieve "Moksha." It comprises Badrinath, Dwaraka, Puri, and Rameshwaram. Hindus consider that every Hindu must visit the Char Dham during one's lifetime.
The concept of the Chardham pilgrimage emerged under the initiative of the great spiritual guru Adi Shankaracharya. Adi Shakara is said to have laid the foundation stones of the holy Chardham situated in the four different corners of India; i.e., Badrinath in North, Rameshwaram in South, Jagannath Puri in East, and Dwarka in West.
Adi Shankaracharya
Char Dham was actually a symbol of four acts of four Era/yuga. Adi Shankaracharya tied them together under a single discipline by the formation of 'Char Dham'.
In Satya yuga, Badri was a sacred place where Nara-Narayana performed tapasya. In Treta, Lord Rama worshipped Shiva at Rameswaram before crossing the sea to Lanka. In Dwapar, Krishna migrate from Mathura to Dwarka, escaping from Jarasandha. Puri was established in Kali Yuga.
A relatively shorter but very important pilgrimage circuit is formed in the Garhwal part of Uttarakhand. It consists of – Badrinath, Kedarnath, Gangotri, and Yamunotri and are known as the Chota (small) Char Dham. Shrines of Chota Char Dham represent all three major sects of Hindu Dharma. There is one Vaishnava temple (Badrinath), one Shaiva temple (Kedarnath), and two Shakta temples (Yamunotri and Gangotri).
Yamunotri, the source of the Yamuna River and the seat of the Goddess Yamuna
Gangotri, the source of the Ganges (River Ganga) and the seat of the Goddess Ganga
Kedarnath, where a form of Lord Shiva, is revered as one of the twelve jyotirlingas (linga of light).
Badrinath, the seat of Lord Vishnu in his aspect of Badrinarayan.
Importance of Chaar Dham
This pilgrimage journey carries immense importance in the life of a religiously inclined Hindu. In Hinduism, it is believed that by undertaking the Chardham yatra, one is freed from the burden of sins not only in the present life but also from the past. It is believed that this sin ablution frees one from the cycle of Karma and birth & rebirth, leading one towards salvation or 'Moksha.'
It offers them spiritual solace, purifies their heart & soul, broadens their thinking beyond the mundane, offers them self-actualization, and consolidates their devotion & faith.
Badrinath
Badrinath became prominent when Nara-Narayan, an incarnation of Vishnu, did Tapasya. At that time, that place was filled with Plum trees. So the Badrinath came to be known as the first Dham. Badrinath Dham falls within Uttarakhand's Chamoli district and amid the mythical Nar-Narayan mountain ranges.
Located at an elevation of 3,133 meters from sea level, the Dham is on the left bank of the Alaknanda River. This region has also witnessed Saint Adi Shankaracharya getting freedom from the process of reincarnation.
Rameshwaram
Rameshwaram got its importance in the Treta-Yug when Lord Rama built a Shiv-ling here and worshipped it to get the blessings of Lord Shiva. After his victory in Lanka and Ravana's downfall, Rama returned to Rameshwaram to rest and worship Shiva to absolve the sin of killing Brahma's grandson i.e, Ravana. The name Rameshwaram means "the God of Lord Rama." Rama himself is considered an incarnation of Lord Vishnu. Rameshwaram in the South Indian state of Tamil Nadu is located in a town named after it and falls within the district of Ramanathapuram.
Dwarka
Dwarka got its importance in Dwapar Yuga when Lord Krishna, another incarnation of Lord Vishnu, made Dwarka his residence instead of Mathura, his birthplace. The Dwarka Dham is situated on the Okhamandal peninsula on its western shore and falls within the state of Gujarat, India.
Jagannath Puri
The temple was built in the 12th century by Raja Anantavarman Chodaganga Dev in dedication to Lord Jagannath or Lord Krishna. Jagannath Dham is located in the state of Orissa or Odisha along India's eastern coast and by the seashore of the Bay of Bengal.
In Jagadhnath Puri, the deities are buried every 14 to 18 years, one above another, replaced by new ones. These deities are made up of neem wood and are believed to be disintegrated on their own.
Significance
In Hinduism, the ideal life is divided into four parts – Dharma (duty), Artha (wealth and prosperity), Kaam (worldly desires), and Moksha (salvation or ultimate freedom). Moksha is the ultimate goal, but the other three aspects of life should precede the way towards Moksha. Moksha is the stage when a human being attains freedom from the vicious circle of life and death and becomes one with god. It also connotes freedom from worldly pursuits, self-realization, and self-knowledge. Chaar Dham yatra is supposed to help us attain Moksha.
In the Puranas, Hari (Vishnu) and Hara (Shiva) are referred to as eternal friends. It is said wherever Lord Vishnu resides; Lord Shiva resides nearby. The Chaar Dhams follow this rule. So Kedarnath is considered the pair of Badrinath, and Rama Setu is the pair of Rameshwaram. Somnath is considered as the pair of Dwarka.
It is a common Hindu belief that Lord Vishnu takes his bath at Rameswaram (in Treta Yug), meditates at Badrinath (in Satya Yug), dines at Puri (in Kali Yug), and retires at Dwarika (in Dwapara Yug).
Traditionally the trip starts are the eastern end of Puri, proceeding in a clockwise direction in a manner typically followed for circumambulation in Hindu temples.
This yatra makes for a great active break from routines and a spiritual journey, even if one is not religious. It is believed that sages and ascetics of ancient and present India lived for long years precisely because they took abode in the mountains meditating for long periods. The Char Dham Yatra is largely a trekking activity. For those in good health, there are scenic trekking routes to take along with other pilgrims.
Due to the representations of Lord Jagannath in different religions (Hinduism, Buddhism, and Jainism), Jagannath is considered a non-sectarian deity.
The Significance of Shri Badrinath Dham can be understood from the fact that it is considered the most sacred among the four shrines. Located at an elevation of 3,133 meters from sea level, the Dham is on the left bank of the Alaknanda River. The Dham is dedicated to Lord Vishnu, the divine protector and preserver in Hindu Trinity (Brahma, Vishnu, and Shiva). These sacred temples of Lord Vishnu are also known as Vishal Badri. This region has also witnessed Saint Adi Shankaracharya getting freedom from the process of reincarnation.