Om Jai Lakshmi Mata is a very popular aarti song that praises the quality and personality of Goddess Lakshmi. This Lakshmi Aarti is one of the variation of very popular arati "Om Jai Jagadish Hare" composed by Swami Shivananda (Direct disciple of Sri Ramakrishna Paramahamsa) circa 1870 CE.
Lakshmi Aarti is an offering of respect, welcome, or worship to Goddess Lakshmi. Aarti is one aspect of worshipping Goddess Lakshmi where devotees are reminded of Her glorious presence and providence.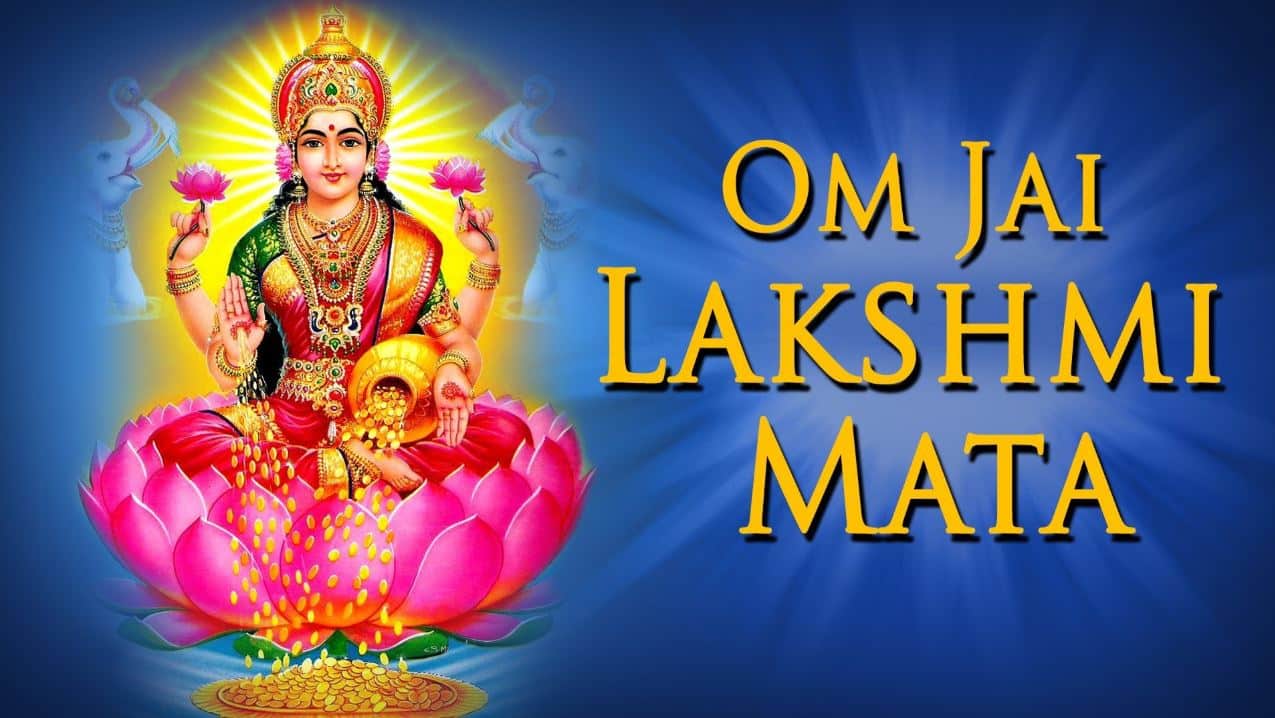 Lyrics in English
Om Jai Lakshmi Mata, Maiya Jai Lakshmi Mata
Tumko Nis Din Shewat, Har Vishnu Dhata
Om Jai Lakshmi Mata…
Uma Rama Brahmani, Tumhi Jag Mata
Surya Chandrama Dhyavat, Narad Rishi Gata
Om Jai Lakshmi Mata…
Durga Roop Niranjani, Sukh Sampati Data
Jo Koi Tumko Dhyawat, Riddhi Siddhi Dhan Pata
Om Jai Lakshmi Mata…
Tum Patal ki Vasini, Tum hi Shubh Data
Karma Prabhava prakashini, Jag nidhi Ki Trata
Om Jai Lakshmi Mata…
Jis Ghar me Tum Rahti, Sab Sadguna Ata
Sab Sambhav ho jata, maan nahi ghabrata
Om Jai Lakshmi Mata…
Tum Bin yagya na howe, vastra na koi pata
Khan paan ka vaibhav, sab tumse ata
Om jai Lakshmi Mata…
Shubh Guna Mandir Sunder, Kshirodadhi jata
Ratna Chaturdas tum bin, koi nahin pata
Om Jai Lakshmi Mata…
Maha Lakshmiji ki Aarti, jo koi jan gata
Ur Anand Samata, paap Utar jata
Om jai lakshmi Mata…
Om Jai Lakshmi Mata, Maiya Jai Lakshmi Mata
Tumko Nis Din Shewat, Har Vishnu Dhata
Om Jai Lakshmi Mata…
Lyrics in Hindi
ॐ जय लक्ष्मी माता, तुमको निस दिन सेवत,
मैया जी को निस दिन सेवत
हर विष्णु विधाता || ॐ जय ||
उमा रमा ब्रम्हाणी, तुम ही जग माता
ओ मैया तुम ही जग माता
सूर्य चन्द्र माँ ध्यावत, नारद ऋषि गाता || ॐ जय ||
दुर्गा रूप निरंजनी, सुख सम्पति दाता
ओ मैया सुख सम्पति दाता
जो कोई तुम को ध्यावत, ऋद्धि सिद्धि धन पाता || ॐ जय ||
तुम पाताल निवासिनी, तुम ही शुभ दाता
ओ मैया तुम ही शुभ दाता
कर्म प्रभाव प्रकाशिनी, भव निधि की दाता || ॐ जय ||
जिस घर तुम रहती तहँ सब सदगुण आता
ओ मैया सब सदगुण आता
सब सम्ब्नव हो जाता, मन नहीं घबराता || ॐ जय ||
तुम बिन यज्ञ न होता, वस्त्र न कोई पाता
ओ मैया वस्त्र ना पाटा
खान पान का वैभव, सब तुम से आता || ॐ जय ||
शुभ गुण मंदिर सुन्दर, क्षीरोदधि जाता
ओ मैया क्षीरोदधि जाता
रत्ना चतुर्दश तुम बिन, कोई नहीं पाता || ॐ जय ||
धुप दीप फल मेवा, माँ स्वीकार करो
मैया माँ स्वीकार करो
ज्ञान प्रकाश करो माँ, मोहा अज्ञान हरो || ॐ जय ||
महा लक्ष्मीजी की आरती, जो कोई जन गाता
ओ मैया जो कोई गाता
उर आनंद समाता, पाप उतर जाता || ॐ जय ||
Translation In English

Glory to you, O Mother, glory to you,
mother Lakshmi. Shiva, Vishnu,
and Brahma meditate on you everyday and night.
You are yourself the consort of Brahma,
Rudra and Vishnu and the mother of the world.
The sage Narada sings your praises
and the Sun and the Moon meditate on you.
As Durga, you grant both happiness and
prosperity and he who centers his attention
on you becomes a recipient of all
riddhis and siddhis Prosperity and
Accomplishment.
None but you dwell in the nether regions
of the earth and you alone ensure good luck,
bring to light the effect of action(karma),
and protect all worldly treasures.
All the virtues collect themselves
Where you have your dwelling ;
with your grace and favor even the
impossible becomes possible without
causing any nervous agitation.
No sacrifice can be performed without you;
no one can obtain any garment;
it is from you that one obtains
one's sustenance.
O! daughter of the Ocean of Milk and
the beauteous temple of all propitious virtues,
you are verily a living mass of all
Fourteen gems with which none else is endowed. Whosoever hymns this prayer
to Lakshmi is purged of his sins
and experiences the ecstasy of joy.
Last Updated on March 10, 2022