Shivapuri Baba is one of the rarest flowering, especially in India, where so many idiots pretend to be Mahatmas.

Osho
Finding a person like Shivapuri Baba is either luck or the result of a lot of hard work and Sadhana. He was an accomplished Yogi who taught and inspired humans to practice Swadharma, the Right living.
Finding a God-realized person like him in this crowd of the modern age is almost impossible. Shivapuri Baba is named after the mountain forest nearby Kathmandu, where he resided during the last thirty-seven of his 137 years of life.
Sri Govindananda Bharati, the sanyasi name of Shivapuri Baba, lived 137 years of earthly life and most of the time traveled on foot. Shivapuri Baba is one of the first spiritual teachers of the East who visited different parts of the world.
He traveled to more than 50 countries and met with leaders of many nations, eminent scientists, and ordinary people, bringing the teachings of Yoga and the light of awareness. Queen Victoria of the United Kingdom was one of his close devotees whom he taught Yoga.
During his lifetime, he visited India, Afghanistan, Iran, Jerusalem, Mecca, Turkey, Greece, Italy, Vatican, England, the countries of North and South America, Canada, the Atlantic Islands, Australia and New Zealand, Japan, and China, and after traveling around the world returned to Nepal.
Life of Shivapuri Baba
Shivapuri Baba was born in 1826 under the real name Jayanthan Nambudiripad in the southwest Indian state of Kerala and was of high Brahminic descent. After losing his parents in childhood, he was raised by his Grandfather, the widely known court astrologer Achyutam, before retiring to a forest as a hermit following Brahminic custom.
At the age of eighteen, in 1844, young Jayanthan decided to renounce the world. He drew up a will entitling his twin sister to inherit his father's property, followed his Grandfather into the forest, and prepared for his appointment as a sanyasi.
Shortly before his death, Achyutam told his grandson that he had set aside a considerable sum of money in the form of diamonds and other precious stones. Grandfather told Jayanthan that he should keep until he had acquired knowledge of God. Thereupon he should undertake his prescribed pilgrimage, however, to all the holy places in India and around the world.
God-Realization by Govindananda Bharati
After completing the burial rituals of his Grandfather, the young man visited the head of the Shankar math in south India and received initiation in sanyasi order. He took the sanyasi name, Govindananda Bharati, and went deeper into the jungle, moving up the Narmada River.
The path that Govindananda wanted to follow was Ritambhara Prajna, the absolute knowledge of God beyond all forms and ideas.
He went deep into Tapasya, trying only wild berries and root vegetables. Such a difficult yogic practice – sadhana, continued for 25 years; when he was then 50 years old, he became a Self-realized or God-realized soul – an enlightened one.
He spoke eloquently about this in a poetic form, the essence of which lies in the following words: God came like a flash, and all questions were answered, and all problems were solved forever.
Baba visited Mecca, where no Hindus are allowed today
He spent another 50 years traveling on foot around the world, visiting different parts of the world as they were once promised to his Grandfather. His journey began in 1875, starting in India, and he passed from Afghanistan to Iran.
In Iran, he met a Sufi saint who recognized him. With the help of this saint, he got the opportunity to enter the shrine of the Islamic religion – Mecca. In the Shrine where no Hindus are allowed today, Baba got permission to visit. It may be because he has attained Bhagavat or God; it was easy for him to say La ila il Allah. Mohammad Allah Rasul. Allah ho Akbar.
Baba paid respect to Jesus Christ.
And after the pilgrimage to Mecca, he went to Jerusalem, where he arrived in 1890, crossing the endless desert to pay tribute to Jesus Christ and respect. It is amazing when you realize that Baba traveled the Desert road on foot at that time to reach Jerusalem.
Baba later said in a meeting with John G. Bennett that he had traveled about 80 percent of the world on foot.
Shivapuri Baba's influence on the Queen of England
In 1896 he was invited to England, probably by Munshi Abdul Karim, the Indian secretary of Queen Victoria, who developed a great affection for Govindananda. He met eighteen times with the English ruler at various of her castles.
Baba greatly influenced Queen Victoria. She was very interested in the spiritual life of Indians. After the death of the Queen's husband, she was curious to know the secret of death. So, Queen kept urging Baba not to leave the UK until her death. Baba also became the Yoga Teacher of Queen.
At the request of Queen Victoria, Shivapuri baba stayed in England until her death. He met many other personalities, such as Winston Churchill and George Bernhard Shaw. Baba lived in the UK for a long time and visited the country's rural areas.
He lived with the Wilkinson family on the British island of Mayan. At the same time, he was introduced to a young man who later played an important role in bringing Baba to Nepal.
Influence on Leo Tolstoy
It was Shivapuri Baba who had a tremendous influence on Leo Tolstoy. During his visit to Russia, he stayed with the writer in Moscow. Tolstoy became very attached to Baba during his month as a guest and did not want to let him go. It got to the point that Shivapuri Baba had to escape from him secretly.
Researchers of Tolstoy's work claim that after the visit of Shivapuri Baba, his worldview changed dramatically.
Madame Curie and Marconi
Did Lord meet Madame Curie and her husband Pierre Curie while in Paris?
Yes. I was with them for some time. She was then trying to make radium out of something. I said to her, "Powder it to the atomic point". This made her so happy she went on saying "Atomic point? Atomic point?" for quite a few minutes like one gone almost mad.
Did Lord meet Marconi in Italy?
Yes. Marconi was then trying to make the communication of wireless messages possible. I told him, "Whatever we speak goes around the world and comes back to ourself." This gave him an idea.
(Source – Right Life: Teachings of the Shivapuri Baba – by Renu Lal Singh)
Baba fulfilled his promise made to his Grandfather
After Queen Victoria died in 1901, Baba resumed his world tour. He crossed the Atlantic Ocean and reached America. Shortly after arriving in the United States, he met President Theodore Roosevelt.
In 1904, he moved south from the United States. Arriving in Mexico, he met the old dictator Porphyrio Diaz. Then Baba headed for the Andes mountain, known as the Himalayas of the South. He also visited the highlands of Colombia and Peru in South America.
Shivapuri Completes his Pilgrimage
After South America, he reached Japan in 1913 by ship via Australia and New Zealand. Baba returned to India from Japan via China and Nepal. He stayed with Madan Mohan Malaviya in Banaras for some time.
Pt. Madan Mohan Malaviya was then on a fundraising campaign to establish the Banaras Hindu University. Shivapuri Baba donated fifty thousand rupees to help Pt. Malaviya. He was asked to be the university's chancellor, but Baba refused to indicate that a sanyasi has no right to occupy any post and went to his village to worship his native land.
He visited his homeland 80 years later. During this time, significant changes occurred there: his sister, to whom he handed over his property, had already gone into another world, distributing all the property to the poor.
So, another prediction of his Grandfather came true, who foreshadowed that his family would cease to exist in the third generation during the time of his grandson and granddaughter.
Pilgrimage to Nepal and became Shivapuri Baba
After fulfilling his duties and his promise to his Grandfather, he came to Nepal and remained there until he left his body. He arrived in Nepal to observe the auspicious day of Maha Shivaratri (11th February 1926) in Pashupatinath Temple.
During the early 1900s, all foreigners who visited Nepal during Shivaratri must return after 7 days of their stay according to the law of Nepal. But, many Saints and Sadhus who visited Pashupatinath Temple during the festival are usually unaware of all the rules and laws of the government.
Along with many others, Baba was also informed by the police that he had to leave Nepal. Baba accepted it. While Baba was returning from Pashupati Nath to the police station of Hanuman Dhoka, an English young man in a horse-drawn carriage shouted, Aren't you Govinda?
The young English man was the same boy Baba had met on the British island of Myan. Now the same young man, Wilkinson, W. H. J., had become a resident ambassador to Nepal. Through the efforts of the same ambassador, Govindananda Bharti was allowed to stay in the Shivapuri hills in Kathmandu. It was from this mountain that he became known as Shivapuri Baba.
Baba's first visit to Nepal
Interestingly, Baba had already visited Nepal once in September of 1846 with his Grandfather. It was during the time of Kot Parva, a coup by the first Rana prime minister of Nepal. They saw the soldiers carrying guns everywhere.
Baba and his grandfather returned after visiting Pashupatinath. They had entered the Kathmandu Valley along the banks of the Bagmati.
Baba Healed himself from Cancer
Thirty years before Baba's death, he was diagnosed with oral cancer. He went to live in a small hut in Kirateshwar from Shivapuri Peak for treatment until 1943. His devotees treat him with modern methods but to no avail. However, Baba started his own treatment by Pranayama, an ancient yogic practice related to Prana or life energy.
He totally recovered and started smoking, he was already 106 years old at that time. He moved from Kiranteshwar to Dhrubasthali where he consciously left his body 30 years later in 1963. His devotee started building a wooden hut there, which still exists as Baba's mausoleum.
In Dhrubasthali, Baba used to teach his devotees about Swadharma, the right living. Among the devotees close to Baba were Madhav Timilsina, Thakur Lal, Renulal, Kancha Dai, etc., and also people from abroad, including John G. Bennett, Bhikkhu Sugat, who were deeply interested in spirituality.
Maha Samadhi of Shivapuri Baba
A year before his maha samadhi, Baba had begun to tell his devotees that he would take samadhi as his duty was over. He left his body on January 28, 1963, at the age of 137. He got up from his bed, drank a glass of water, and said: Worship God. Then he lay down on his side supporting his head with his right hand and said his last words: I'm gone.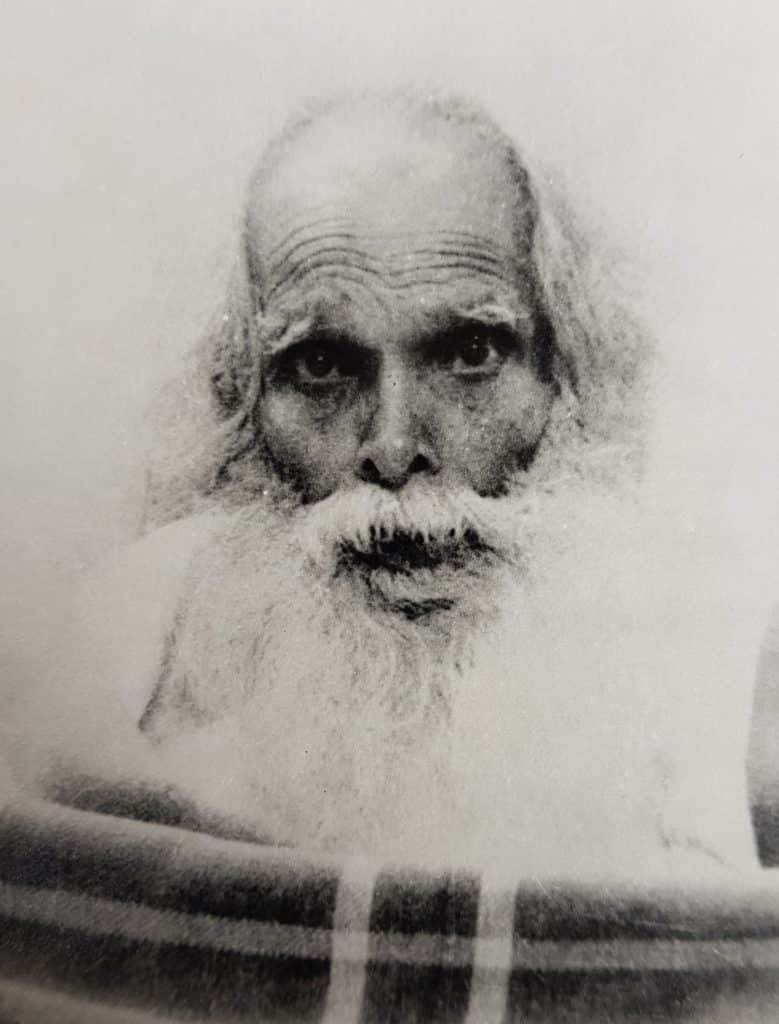 Shivapuri Baba believed that man himself is capable and must attain Absolute Truth. He always tried to avoid fame and did not leave behind a cult or teaching. Only a few lucky ones had the opportunity to meet him and experience his presence.
And in our time, Shivapuri Baba is still little known to the world; however, many of his followers live in Nepal. Everyone who visits the Shivapuri Baba samadhi temple can be imbued with the spirit of the great mystic and receive his help, strength, and inspiration.
Shivapuri Baba is still available today for those who trust him and need support. Once having felt his energy, the feeling of the hypnotic presence of the enlightened consciousness of this real person will remain indefinitely.
Mistakes of Shivapuri Baba
It may seem unusual to hear that such a mystic and divine being can make a mistake, not one but two. Shivapuri Baba mentioned two mistakes in his life:
1. He broke the law of nature
Babaji was a divine being of great power, but he never showed his power to anyone. Like a god-like being, he remained humble and followed the law of nature.
One day in his Shivapuri Hut, a yogi came to his hut during a snowy night to seek shelter. Babaji asked his caretaker, Madhava, to cook food for the Yogi. But there was no grain and lentils; Babaji understood and asked Madhav Baje to bring whatever grain and lentils were available.
Baba then asked Madhav Baje to light a fire, but the woods were all wet; Babaji blew on the woods, and they started burning like dry wood. The empty pot with a few grains and lentils was filled with Khichadi. The yogi was fed till he was satisfied.
After the Yogi left, he told Madhav Baje that this was his first mistake, he broke the law of nature.
2. When the aristocrat died
Babaji had a cow donated by one of his disciples, and the cow was somewhat miraculous. She could provide a quarter of a liter of milk whenever she is milked at any time of the day. Babaji depended on the cow for milk.
Upon hearing about the cow, one of the Rana aristocrats ordered to bring the cow and give Babaji three cows instead. But Babaji refused; upon forcibly taking the cow, Babaji returned those three cows to the aristocrat.
That day Babaji got a little angry at the aristocrat. The next day, the aristocrat died vomiting blood. Babaji's second mistake; he got angry, although the aristocrat bears the fruit of his arrogance.
Teachings of Shivapuri Baba
The essence of his teaching can be conveyed in a short formula: Righteous life and faith. It is based on two pillars: Viveka (intelligence) and bhakti (devotion). According to Shivapuri Baba, observing three disciplines are necessary: physical, moral, and spiritual. His main teaching is similar to Swadharma taught by Sri Krishna to Arjuna in Bhagavad Gita.
Swadharma includes various topics of divine contemplation, including the need for man to protect and serve his body, family, and society. As a first Physical discipline, one should take care of the body. Moral discipline will help create harmony in the family and society, and spiritual discipline will help stay closer to God or yourself.
Baba says if you contemplate and meditate upon God uninterrupted for two Muhurta (48×2 minutes) or one Prahar (3 hours), then the radiant light of God appears before you, which you experience but cannot describe in words.
He says It is difficult but not impossible. But if you take enough trouble to remove that difficulty, all other difficulties of life will vanish.
Swadharma is a life with a specific goal or purpose, planned and prudent. There is only room for the duties required to meet God as soon as possible. It is possible to practice Swadharma only after acquiring various Sattva qualities.
A sattvic person has insight or conscience, and he becomes self-controlled. Only those whose minds and senses are in control can evolve spiritually and follow the path of Swadharma.
Quotes and Words of Shivapuri Baba
Think of God alone. Dismiss every thought from your mind. You will see God before you and all your problems will be solved.

Shivapuri Baba
Unless we see God, we cannot know anything. When we know God we know everything.

Shivapuri Baba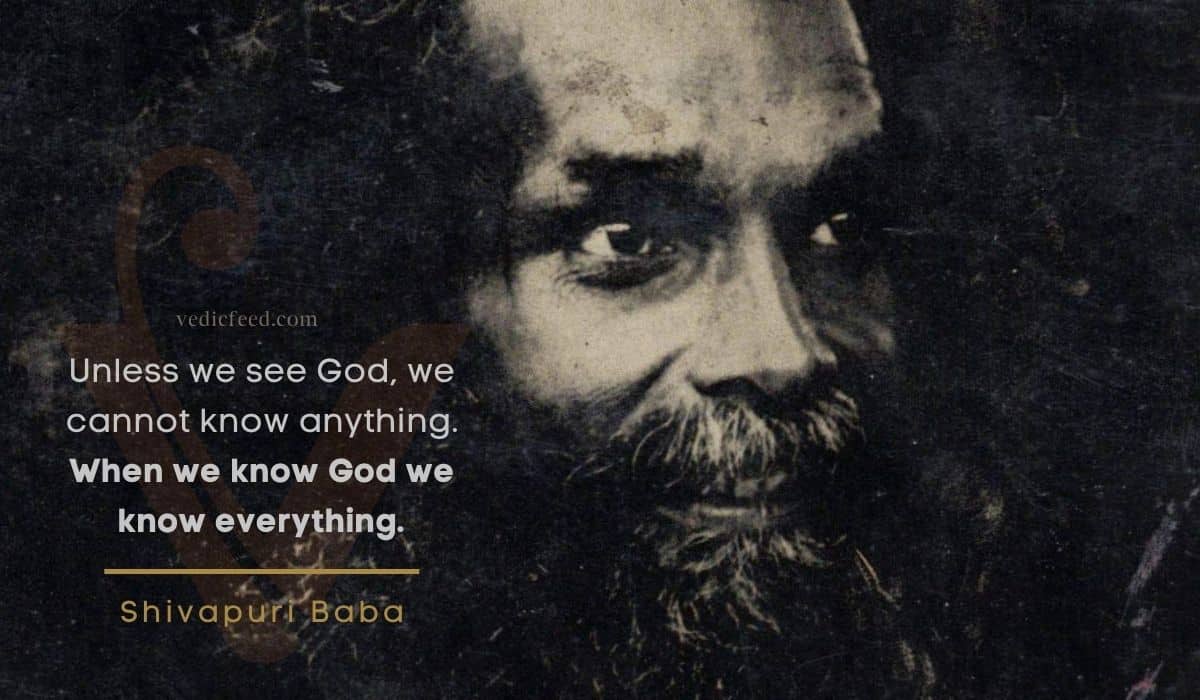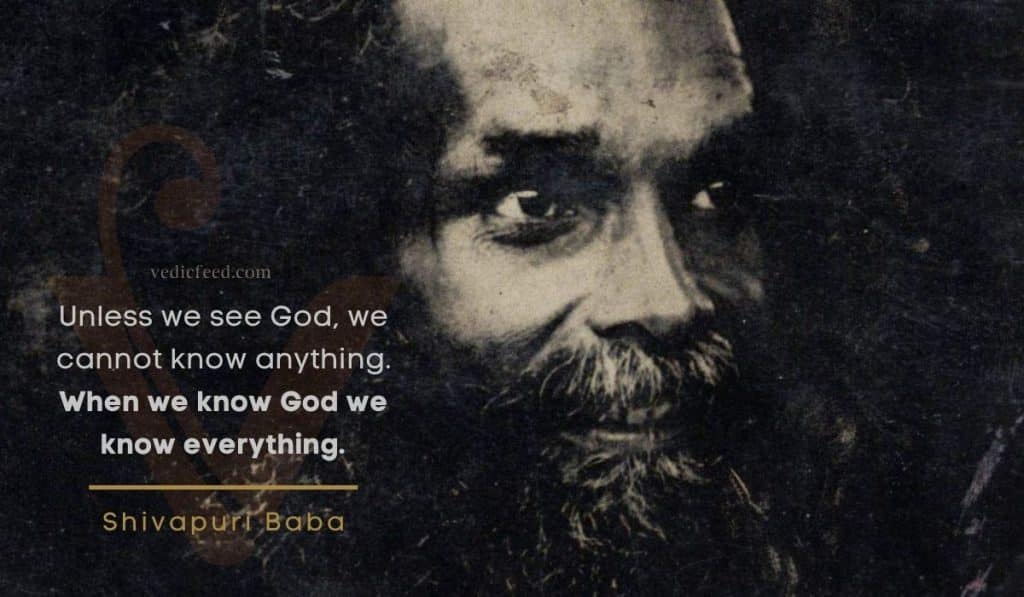 Devotee: How can we travel closer to God?
Baba: The longer time you spent on prayers, he becomes nearer and you can realize God in a short period of time.

Devotee: Should we pray to God chanting his names mentally or verbally?
Baba: Both are useful. You can do, as you like. Praying mentally is Divine and Sattvic. Chanting God's name moving your lips is Rajasic and chanting with a loud voice is Tamasic. Try to remember God by any means. Do not waste your time.
Take care of your speech; Bad speech makes enemies. Before speaking to anybody, first, create respect for him or her as a representative of God.

Shivapuri Baba
The urge for God must come from within oneself, others cannot give it. Only after one has got complete defeat from life can one turn to God.

Shivapuri Baba
One who has no inner desire of seeking God cannot find a God Realized Guru. They are under the influence of bad habits like laziness, ignorance, and ego. That is why the journey towards God is affected. If one has intense desire, he can find a God Realized Guru.

Shivapuri Baba
Recommended Books
Long Pilgrimage: The Life and Teaching of Sri Govinananda Bharati – Book by J. G. Bennett and Thakur Lal Manandhar
Right Living: Teachings of Shri Prabhu Shivapuri Baba – Book by YB Shrestha Malla
Shivapuri Baba also met and commented on many God-realized saints like Ramakrishna Paramhansa, Ramana Maharshi, Neem Karoli Baba, etc.