He mistook the Sun as a ripe mango and flew into space to consume it as a child. He was none other than the great Sri Hanuman, who was one of the greatest devotees of Lord Rama and was a reincarnation of Lord Shiva himself. A Vedic scholar with no equal possesses immeasurable strength and completes feats of supreme valor in the fight for Dharma (righteousness).
Although having so much knowledge and strength, Lord Hanuman is also renowned for his qualities such as humbleness, loyalty, and selflessness and is known to have mastered the nine types of devotion and is "Para Brahma." Likewise, Sri Hanuman is adored wholeheartedly and worshiped ardently by devotees worldwide.
His devotees chant Hanuman mantras, have their babies named after him, and chant his 108 names. Moreover, the most famous prayer offered to Sri Hanuman is by chanting Hanuman Chalisa.
Hanuman Chalisa Facts
Hanuman Chalisa is a devotional hymn in the Awadhi language (a language similar to Hindi and whose origin is from Sanskrit) addressed to Sri Hanuman. It was composed by Goswami Tulsidas in praise of Lord Hanuman.
Hanuman Chalisa shows how the legendary figure surpasses everyone. The qualities of Hanuman – his strength, courage, wisdom, celibacy, devotion to Lord Rama, and the many names by which he was known – are detailed in the Hanuman Chalisa. It is one of the most famous and powerful hymns in Hindu Dharma. Thus, here are some Amazing Hanuman Chalisa Facts that show how powerful this beautiful Stotram is.
1. Composer of Hanuman Chalisa
Hanuman Chalisa was composed by Tulsidas, a 15th-century poet-saint who was also a philosopher and reformer. Tulsidas is also renowned for his devotion to Shri Rama. Goswami Tulasidas composed Hanumaan Chalisa in 40 days in the Jail of Third Mughal Emperor Jalaluddin Muhammad Akbar. At the age of 63 years, Goswami Tulasidasji was captured by Third Mughal Emperor Jalaluddin Mahummad Akabar in 1560 A.D.
Tulsidas has written this to inspire spiritual aspirants to become devotees of Lord Rama so that they are blessed and protected by Hanuman and are spiritually progressing.
2. The Miracle of Chanting Hanuman Chalisa
Akbar had summoned Sant Tulsi Das, who was later brought in front of the tyrant Akbar. He was asked to perform a miracle, to which Tulsi Das declined by saying: "It's a lie; all I know is Sri Rama." So, Akbar imprisoned Tulsi Das at Fatehpur Sikri, saying, "We will see this Rama."
However, Tulsi Das refused to bow down to Akbar and wrote the Hanuman Chalisa in praise of Sri Hanuman. He chanted this for forty days, and on the 40th day, suddenly an army of giant monkeys descended upon Fatehpur Sikri, unleashing havoc in all corners of the town, entering each home as well as Akbar's harem, scratching people and throwing bricks.
An old Hafiz told Akbar that this was the miracle of the Hindu fakir. Akbar immediately fell at the feet of Tulsi Das, apologized, and freed him. Tulsi Das stopped the menace of the monkeys and told Akbar to leave the place.
3. The Distance Between The Sun and Earth mentioned in Hanuman Chalisa
The most interesting and scientifically based fact from Hanuman Chalisa is that it accurately gave the exact distance between the Sun and Earth. Tulsidas wrote Hanuman Chalisa in the Awadhi language in the 15th century. The distance between Sun and Earth has been calculated much more accurately than the 17th-century scientists.
4. The Vastness of Hanuman Chalisa
The work consists of 45 verses – 2 introductory Doha, 40 Chaupais, and 1 Doha at the end. The first introductory Doha begins with the word shrī, which refers to Sita, who is considered the Guru of Hanuman.
The auspicious form, knowledge, virtues, powers, and bravery of Hanuman are described in the first ten Chaupais. Chaupais, eleven to twenty, describes the acts of Hanuman in his service to Rama, with the eleventh to fifteenth Chaupais describing the role of Hanuman in bringing back Lakshman to consciousness.
From the twenty-first Chaupai, Tulsidas describes the need for Hanuman's Kripa. In the end, Tulsidas hails Hanuman and requests him to reside in his heart and the heart of Vaishnavas. The concluding Doha again requests Hanuman to reside in the heart, along with Rama, Lakshman, and Sita.
5. The Power of Hanuman Chalisa
जो सैट बार पट कर कोई | Jo sat bar path kare kohi |
चुतेही बंधी महा सुख होई || Chutehi bandhi maha sukh hohi||

जो यहे पड़े हनुमान चालीसा | Jo yah padhe Hanuman Chalisa|
होए सीधी सा के गोरेसा || Hoye siddhi sakhi Gaureesa ||
Above is an extract from Hanuman Chalisa, in which the 1st para states that anyone who chants the Hanuman Chalisa gets freedom from all bondage and experiences great bliss. The 2nd para states, as Gaurisa(Lord Shiva) witnesses, anyone who chants Hanuman Chalisa will become Siddha.
At the very least, Hanuman Chalisa has a calming effect. It is known to cure diseases, Insanity, etc. If chanted by someone in trouble or for someone in trouble, it said the problem goes away.
6. Remembering the Greatness of Sri Hanuman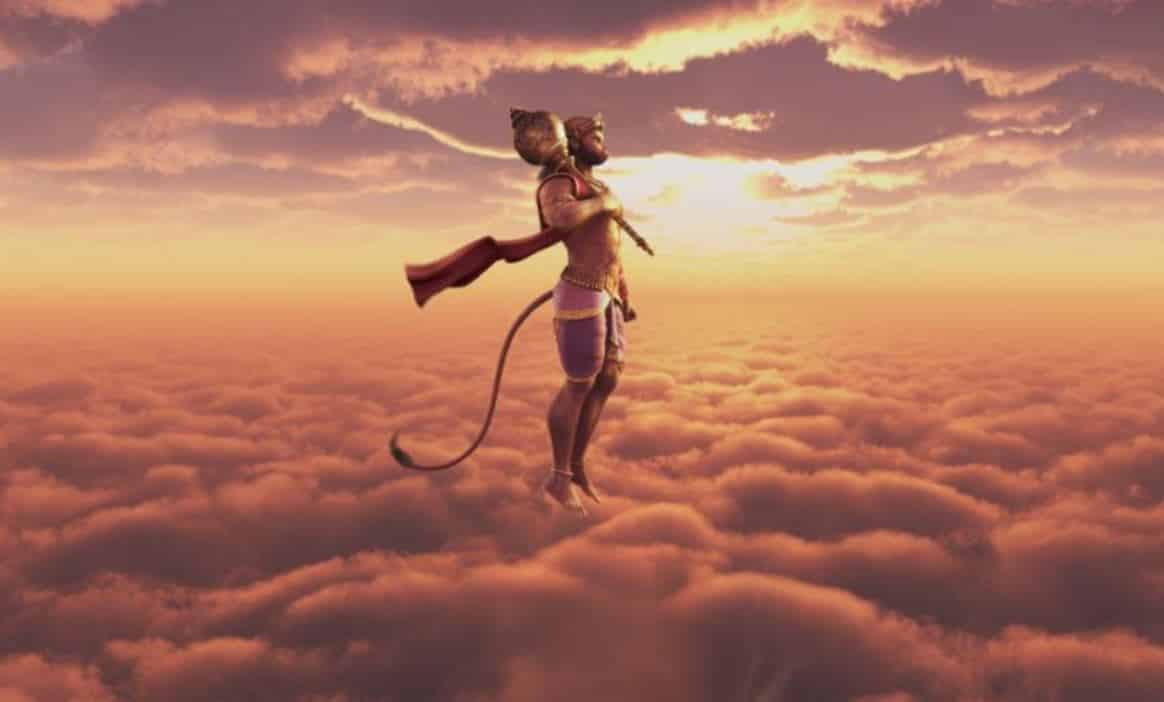 By reciting Hanuman Chalisa, a devotee always reminds himself of the greatness of Hanuman, his devotion, and his terrible fights against the unrighteous. Hanuman is the source of immense energy and focus. Reciting Hanuman Chalisa channelizes the energy and focuses on the mind and body. As mentioned above, Tulsidas had written Hanuman Chalisa to inspire spiritual aspirants to become devotees of Lord Rama. They are blessed and protected by Hanuman and are spiritually progressing.